Bio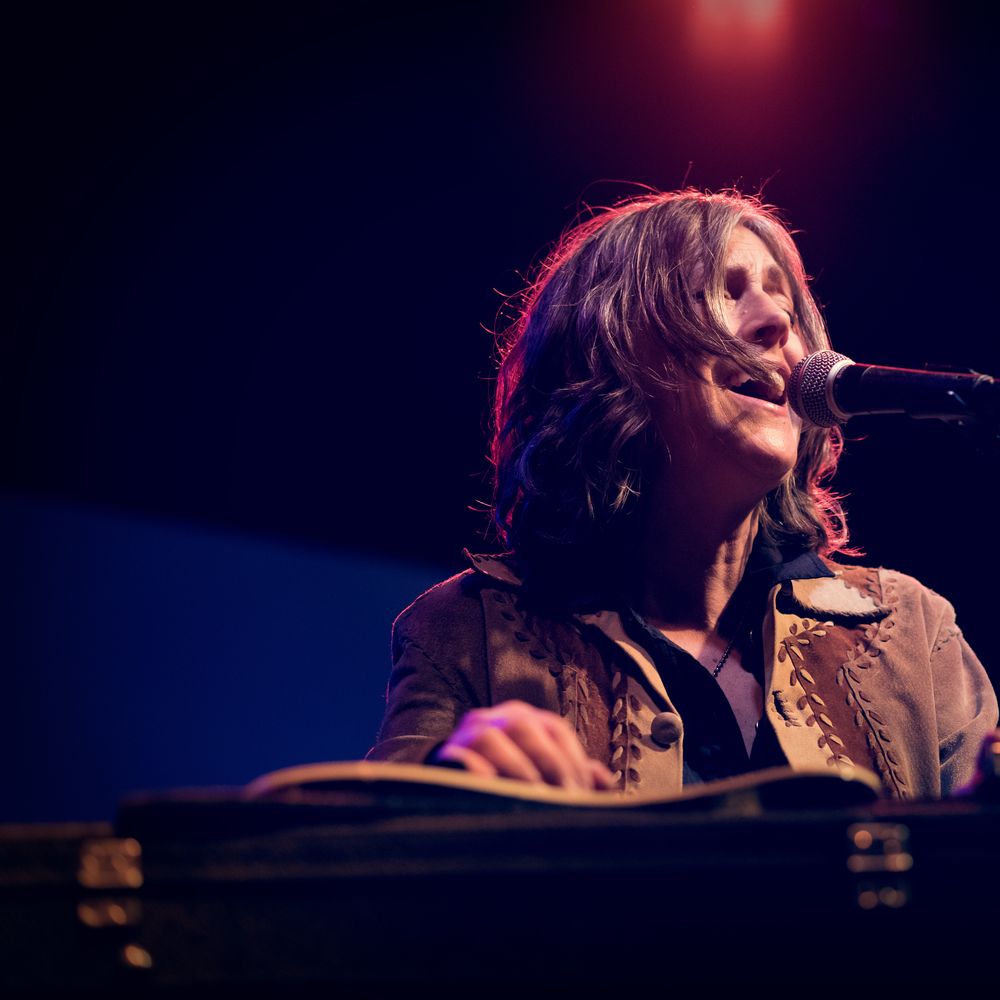 About Becky Shaw
"Though Shaw has been an Atlanta indie rock staple for 25 years, shut down, jump in is her first solo album. As they say, it takes a lifetime to write your first album. In this case, it was worth the wait." (Rachel Cholst, No Depression Magazine, January 5, 2016)
Becky Shaw is a singer, multi-instrumentalist and songwriter who currently resides in Decatur, Georgia. To the Atlanta music community, she has become a "fixer" of sorts: you need any kind of singing – you call Becky. You need accordion – you call Becky. Lap Steel, Keyboards, penny whistle, flute, drums, whatever. From her days as singer of art/indie band Reversing Hour to her role as a touring cast member in Amy Ray's "Jesus Christ Superstar," to her current band Just Roxie (formerly Roxie Watson), Becky has been singing and supporting friends for many years. Now – finally – she has released her first solo record, "shut down, jump in," a collection of happy and sad and lush and sparse self-penned songs that coalesce around some exceptional singing.
In addition to alterna-grass/Americana band Just Roxie, Becky has been a singer and instrumentalist with 70's cover band the Susi French Connection since 2000. Over the past 25 years, she has performed on many stages including Georgia venues Eddie's Attic, The Variety Playhouse, Steve's Live Music, Red Clay Theatre and Smith's Old Bar, the 40 Watt in Athens, Blue Ridge Community Theatre, The Bluebird Cafe in Nashville, New York's CBGB's, The Knitting Factory, The Bitter End, The Pier in Seattle, and The National in Richmond, Virginia. Although she plays guitar, drums, harmonicas, flute, piano, accordion, lap steel & ukulele, Becky's primary instrument is her voice, which has been described as "clear as a bell, rich and haunting."
Growing up in the Northwest (Seattle and Idaho) Becky's musical roots are deeply tapped into Americana music, classical and old country gospel. Her love of singing began at a very early age, influenced by her musical family and her love of singers like Karen Carpenter and Patsy Cline. Once she became the proud owner of her own transistor radio and discovered rock and roll, however, her life changed forever.
Her previous bands have ranged from folk group Mother Daughter Banquet (with Marty Kearns & Chris Boesel) to the art rock of Reversing Hour, various rock combinations with Atlanta pals Michael Lorant & Sheila Doyle of Big Fish Ensemble, Allen Broyles of Josh Joplin Group, Gerard McHugh, Chris McGuire, Kristen Hall, Simone Simonton and many others. She was the drummer in the punk-inspired rock trio STB with Sonia Tetlow and Lee Kennedy, and played keyboards with Atlanta singer-songwriter Paul Melancon. Her band Roxie Watson celebrated the release of their fourth album at the Buckhead Theater in 2017, and after re-forming as the trio "Just Roxie," will release a new album in Fall of 2020. The band performs at Eddie's Attic in Decatur Georgia two to three times a year, and in theaters and clubs throughout the Southeast.  In the past few years, Becky has also performed on lapsteel, ukulele and backing vocals with internationally acclaimed singer-songwriter Caroline Herring.
Although shut down, jump in was Becky's first solo record, she has released two Christmas albums with Atlanta keyboards player/multi-instrumentalist Allen Broyles, and she has been part of numerous other full-length album releases over the past 25 years. Her song, "Wounded Knee," released by Daemon Records artist Reversing Hour, was chosen as part of the compilation "Honor - A Benefit for the Honor the Earth Campaign" released by Daemon Records.
Discography:
Mother-Daughter Banquet
Life Without Television - Reversing Hour
Spit - STB
Swerve - STB
True Stories - Roxie Watson
Of Milestones & Moon Pie - Roxie Watson
Songs From Hell's Hollow - Roxie Watson
Hello, Christmas! - Becky Shaw & Allen Broyles
Hello, Christmas! Volume 2 - Becky Shaw & Allen Broyles
Try A Little Kindness - Roxie Watson
Find Our Way To Love - EP - Roxie Watson
Becky is a rare natural musical talent who finally let loose on a record of her own, and while it could herald the end of line as a "best kept secret," it reveals a mature artist who knows she can break a heart at will, and thus chooses to do it sparingly.